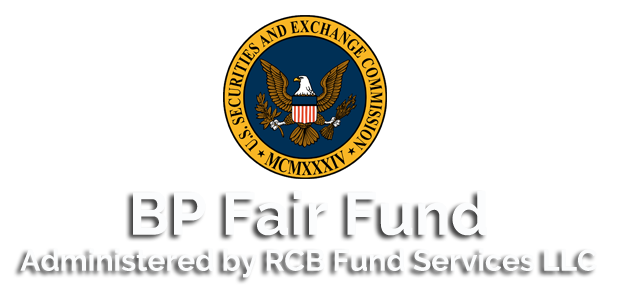 Welcome to the BP Fair Fund Website
On November 15, 2012, the U.S. Securities and Exchange Commission (the "SEC" or "Commission") commenced an action against BP p.l.c. ("BP") alleging that BP violated federal securities laws when it made material misrepresentations and omitted material information known to BP regarding the rate at which oil was flowing into the Gulf of Mexico as a result of the explosion on the offshore oil rig Deepwater Horizon. Ultimately, the SEC and BP settled the charges and entered into a Final Judgment. The Final Judgment ordered BP to pay a civil money penalty in the amount of $525,000,000 and authorized the Commission to distribute the civil money penalty to harmed investors pursuant to Section 308(a) of the Sarbanes-Oxley Act of 2002, as amended. By Order dated February 14, 2014, the Court created a Fair Fund ("BP Fair Fund") in the amount of $525,000,000 for distribution to injured investors, and appointed RCB Fund Services, LLC as the Distribution Agent. In February, 2016, the Court approved a Plan of Distribution that sets forth eligibility criteria and other rules governing the administration and distribution of the BP Fair Fund.
If you purchased BP American Depositary Shares on a U.S. exchange during the period from April 26, 2010 through May 26, 2010, you may be eligible for compensation from the BP Fair Fund.
CASE STATUS UPDATE – September, 2018
We are pleased to announce the commencement of the distribution of the BP Fair Fund.
Our staff has completed the review of each of the more than 96,000 claims to verify each investor's eligibility to recover under the terms of the Distribution Plan. We have sent a Determination Notice, or Final Determination Notice, to each investor claimant detailing the status of their claim. All eligible losses were determined in accordance with the Plan of Allocation contained in the Distribution Plan.
If your claim was determined to be eligible, you should anticipate receiving a check in the coming weeks. Please note that the check bears a "stale date" of 120 days from the date of the check. Any check not negotiated within 120 days will become void, and the related claim will be extinguished. If there is any problem with your check, or if you require a replacement check for any reason, please contact us immediately.
Thank you for your patience as we worked through this process.
Ready to File Your Claim? Begin Today.
Have all the information you need to complete your claim form? You can submit your claim form and attach the documents now.
Questions regarding eligibility?
Need to download a claim form?