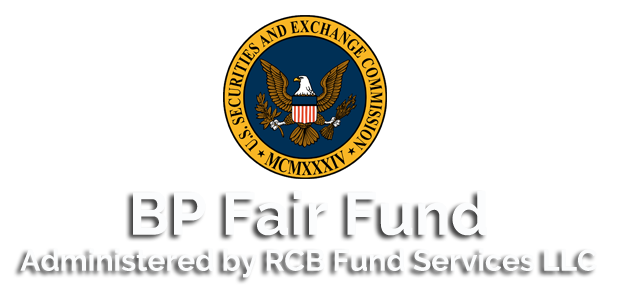 On November 15, 2012, the U.S. Securities and Exchange Commission (the "SEC" or "Commission") commenced an action against BP p.l.c. ("BP") alleging that BP violated federal securities laws when it made material misrepresentations and omitted material information known to BP regarding the rate at which oil was flowing into the Gulf of Mexico as a result of the explosion on the offshore oil rig Deepwater Horizon. Ultimately, the SEC and BP settled the charges and entered into a Final Judgment that ordered BP to pay a civil money penalty in the amount of $525,000,000 and authorized the Commission to distribute the civil money penalty to harmed investors pursuant to Section 308(a) of the Sarbanes-Oxley Act of 2002, as amended. By Order dated February 14, 2014, the Court created a Fair Fund ("BP Fair Fund") in the amount of $525,000,000 for distribution to injured investors, and appointed RCB Fund Services, LLC as the Distribution Agent.
Between 2018 and 2020, the Distribution Agent dispersed in two separate tranches approximately $477 million to investors who suffered losses as a result of investments in BP American Depository Shares, which were traded on the New York Stock Exchange.
On July 25, 2023, the Court approved a Plan of Distribution (the "Plan") that will govern a distribution of the remaining funds in the BP Fair Fund to compensate investors who suffered harm as a result of purchasing BP ordinary shares between April 26, 2010 and May 26, 2010, on the London Stock Exchange, the Frankfurt Börse, or another exchange outside the United States.
If you purchased BP Ordinary Shares on the London Stock Exchange, the Frankfort Börse, or another exchange outside the United States during the period from April 26, 2010 through May 26, 2010, you may be eligible for compensation from the BP Fair Fund.
Ready to File Your Claim? Begin Today.
Have all the information you need to complete your claim form? You can submit your claim form and attach the documents now.